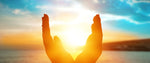 1. Enjoy the sun: Find a natural spot to take a sunbath. Close your eyes, take a few deep breaths to ground yourself. 
2. 2 options fire magic: 1. Lighting a candle, setting your wish or intention, and blowing it out 2. Create a bonfire and burn plants like Mugwort, Lavender or Vervain .
3. Ritual bath: Solstice night is the perfect night for a ritual bath. Light candles, fill your bath with salts, essential oils or flower petals. Burn Palo Santo or White Sage, and clear your mind.