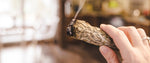 Open windows, doors and cabinets in each room. This allows the negative and stagnant energy to disperse.
Set a positive intention, prayer, or affirmation that you will say while smudging your space. These can be said out loud or silently.
"I cleanse this space of all negative energy and fill it with love".
Use a lighter or candle to light the tip of your smudge stick. Make sure to get a good flame going (around 30 seconds) so that you have enough smoke to smudge. Blow out the flame and lightly wave your hand above the tip of the stick until it begins to smolder and smoke.
Begin to walk around the room in a counter-clockwise motion to clear the space from corner to corner (relight if necessary). Then, smudge in a clockwise motion back around the room to seal up your space and repeat your intention.
Extinguish the tip of your smudge stick by holding the smoking side down in a bowl of sand, an abalone shell, or fireproof bowl. Gently press all sides of the smudge stick into the bowl until the smoke is extinguished. Never leave unattended and always extinguish when leaving the room. Re-use again and again until gone.
End this practice with a deep gratitude for these organic and ethically sources healing tools.
YERBA SANTA

If you need to get over a broken heart, grief or shyness, some yerba santa can be your support.  Yerba Santa herb sticks are used in traditional smudging practice for protection, purification, healing, spiritual strength, courage, psychic abilities, and finding your innermost self. It is traditionally used for protection and the release of emotional pain stored in the heart chakra.

CEDAR

Cedar is first and foremost a medicine of protection. It is often used to cleanse a home when first moving in, inviting unwanted energies to leave and protecting a person, place or object from unwanted influences. The smoke of burning cedar is said to attract the good energy and eliminate negative energy. It is also good for calming, soothing, confidence and strength.

PALO SANTO

Known to combat negative energy and to help clear away negative thoughts or misfortune.

BLUE SAGE

Used to cleanse negativity from a person or space. It welcomes money, wealth, abundance, health, prosperity, healing and coolness to your life. Blue Sage can be used in a ritual ceremony, house cleansing or simply for aroma pleasure.

ROSEMARY

Rosemary is used in a variety of ways in herbalism for its stimulating actions, and it is no different in smudging. It is common to smudge rosemary for increased energy and clarity of mind, as well as for increasing memory. Rosemary has a citrus-like scent.

DRAGON'S BLOOD SAGE

The Blue Sage Smudge Stick with Dragon's Blood Resin combines the sacred, cleansing, and purifying powers of the Blue Sage and the protective, focusing, guiding, courage and passion-inducing powers of the Dragon's Blood. Used to cleanse negativity from a person or space, enhance positive energy. 

 

7 CHAKRA SAGE

White Sage combined with 7 chakras rose petals. Burn to align and cleanse your aura, mind, body, soul, home, and/or surroundings.